The most advanced control unit
for Inxpect safety radars, with the widest range of communication options.
C201A
Performance and connectivity thanks to the Ethernet Fieldbus
The C201A control unit can monitor up to 6 Inxpect Smart Sensors, and thanks to its Ethernet connection, it can also be configured remotely using the Inxpect Safety Application in total safety.
Maximum flexibility.
One control unit, from one to six sensors: small to large, simple to complex, a solution for every requirement.
Automatic background detection and removal allows the system to adapt itself to changing conditions in the work area.
The software supplied with the system allows for multiple configurations: assisted automatic configuration for regularly-shaped areas and manual configuration for monitoring more complex areas.
Programmable muting allows the creation of differentiated intervention areas where operators can gain safe access according to production logic.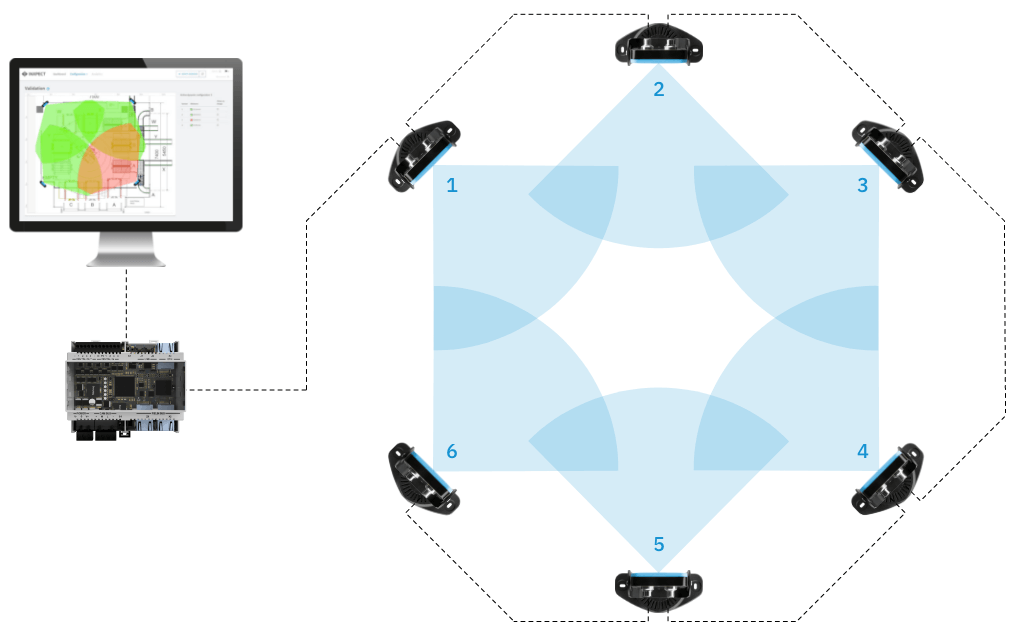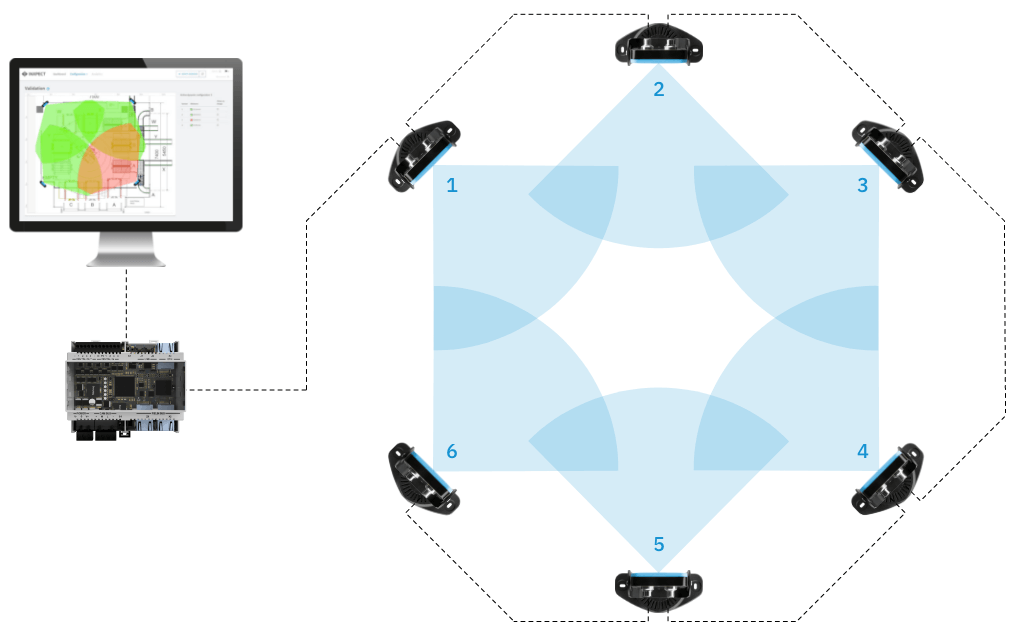 CONTROL UNIT 200 SERIES (C201A)
Ausgänge
4 Ausgänge Signalvermittlungsgeräte (OSSDs) oder 2 zweikanalige Sicherheitsausgänge
Sicherheitsausgänge
High-Side-Ausgänge (mit erweiterter Schutzfunktion)
Max. Spannung: 30 V dc | Max. Strom: 0.4 A | Max. Leistung: 12 W
Eingänge
2 Zweikanal-TYPE3-Digitaleingänge mit gemeinsamem GND
4 einkanalige TYPE 3-Digitaleingänge mit gemeinsamem GND [ab FW 2.0.0]
Fieldbus interface
Ethernet based safety fieldbus (e.g. PROFIsafe)
MODBUS-Schnittstelle
Ethernet Schnittstelle für Echtzeit Datenüberwachung
Energieversorgung
24 V dc (20–28 V dc) Maximalspannung: 1 A (kein OSSD)
Maximaler Stromverbrauch
5 W (kein OSSD)
Zusammenbau
DIN guide
Stärke des Schutzes
IP20
Terminals
Sektion: 1 mm2 | Maximalspannung: 4 A mit 1 mm2 Kabeln
System Konfiguration
Ethernet, USB
Watch animations on typical use cases